Helena Mendonça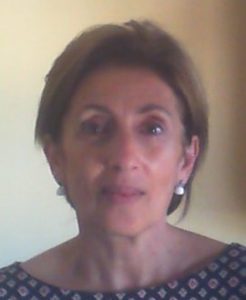 Bio
PhD degree in Sociology (2016), ISCTE-IUL funded by FCT Scholarship – Foundation for Science and Technology. MSc in Communication, Culture and Information Technology (2006) and Bachelor in Sociology by ISCTE-IUL (1986).
Degree in Theater by the National Conservatory of Lisbon (1984).
Freelance journalist.
Professor of the Sociology course at FCSEA-ULHT and Researcher at CPES since 2016.
Lecturer in the Communication and Journalism and Communication Sciences and Culture courses at ECATI-ULHT since 2011. Collaborator of DN Magazine, JN (2008-2011). Collaborator of the magazine Grande Reportagem (2004-2005); Journalist of the Jornal de Notícias (1986-2003) and Associate Editor (1990-1994); Executive editor of the magazine (special) Millennium News (1998-1999).
Main Publications
Mendonça, Helena (2016), Interacção Jornalistas-Cientistas: Os bastidores das notícias de ciência, Tese de Doutoramento em Sociologia, ISCTE-IUL
Mendonça, Helena (2006), Jornalismo e Ciência: Discursos, práticas e trajectórias até à notícia impressa, Dissertação de Mestrado em Comunicação, Cultura e Tecnologias da Informação, ISCTE/IUL.
Main Research Projects
INTERACÇÃO JORNALISTAS-CIENTISTAS: OS BASTIDORES DAS NOTÍCIAS DE CIÊNCIA, Projecto de tese de Doutoramento em Sociologia, bolseira de investigação da FCT, ISCTE-IUL (2009-2016)
JORNALISMO E CIÊNCIA: DISCURSOS, PRÁTICAS E TRAJECTÓRIAS ATÉ À NOTÍCIA IMPRESSA, Projecto de dissertação de Mestrado em Comunicação, Cultura e Tecnologias da Informação, ISCTE/IUL (2004-2006)