Fernando Borges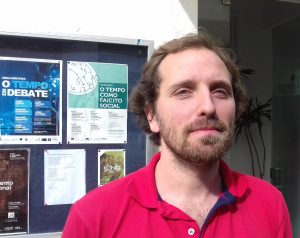 Bio
PhD student at the Université Panthéon-Assas, Paris. Master in Communication and Journalism from the Universidade deCoimbra, with a dissertation on the tensions between tradition and modernity in globalized football. Degree in Journalism from the Federal University of Rio de Janeiro. Between 2009 and 2012, he was a professor at the University of Santigao, in Cape Verde.
Main Publications
Borges, F. (2014). A aproximação entre acadêmicos e jornalistas por meio da utilização de métodos etnográficos. Revista Comunicando, vol. 3, 66-84.
Borges, F. (2013). O papel do ídolo esportivo na remodelação dos mercados de mídia. Revista Comunicando, vol. 2, 261-279.
Borges, F. (2013).O papel da FIFA Fan FestTM na copa do mundo da África do Sul. Horizontes Antropológicos, vol. 19, 201-230.
Borges, F. (2013). Olhando para dentro: o desporto e o lazer no interior da Ilha de Santiago. In, A. Nascimento, M. Bittencourt, N. Domingos & V. Melo (Orgs). Esporte e lazer na África: novos olhares (pp. 267-291). Rio de Janeiro: 7 Letras.
Borges, F. (2010). Pontapé Inicial: um estudo de caso do Futebol no Cabo Verde Moderno. In, V. Melo, Marcelo Bittencourt & A. Nascimento (Orgs). Mais do que um jogo : o esporte e o continente africano (pp. 185-209). Rio de Janeiro: Apicuri.
Main Research Projects
SPORT ET MEDIAS: LA MEDIATISATION DES CLUBS DE FOOTBALL. Projeto de Doutoramento, na Université Pantheon-Assas (IFP- Carism), sob a orientação de Jean-Baptiste Legavre (desde 2012).
FUTEBOL E PÓS-MODERNIDADE: A EXPERIÊNCIA DA COPA DO MUNDO POR MEIO DE ECRANS GIGANTES. Projeto de investigação no âmbito da Universidade de Santiago , Cabo Verde (2010).
ESPORTE, COLONIALISMO E PÓS-COLONIALISMO NOS PAÍSES AFRICANOS DE LÍNGUA PORTUGUESA. Entidade Financiadora: CAPES. Investigador responsável por Cabo Verde (2011 e 2012).